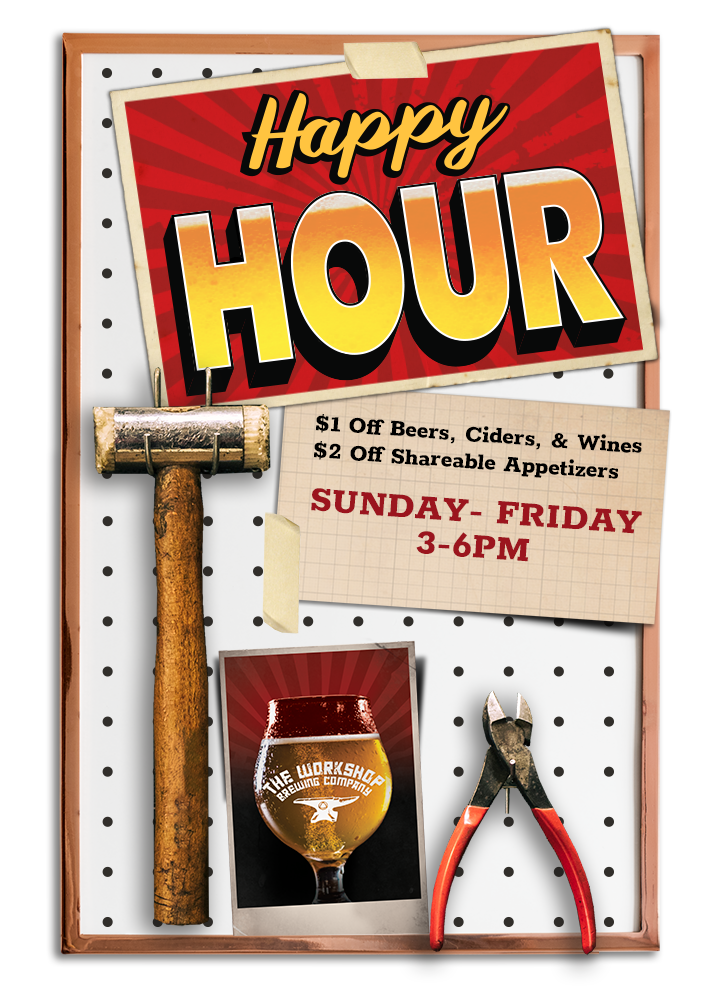 JOURNEYMAN BEERS
These beers are always on (unless everyone's drinking faster than we can brew)
Tenpenny
American Blonde Ale
4.9% ABV
17 IBU
12oz Can 6 Pack $12.00
Pint $5.50
Cold Chisel
Bière Blanche
6% ABV
16 IBU
Pint $5.50
Stonepicker
Tart Cherry Ale
5.3% ABV
13 IBU
Pint $5.50
Ball Peen
ESB
5.3% ABV
27 IBU
Pint $5.50

Ten-Pound Sledge
English IPA
5.5% ABV
50 IBU
Pint $5.50
Twenty-Pound Sledge
American IPA, Midwest style
7.1% ABV
69 IBU
Pint $5.50
 
Pry Bar (Nitro)
Nitro Porter
5.1% ABV
30 IBU
Pint $5.50
Tenpenny
American Blonde Ale
4.9% ABV
17 IBU
12oz Can 6 Pack $12.00
Pint $5.50
Cold Chisel
Bière Blanche
6% ABV
16 IBU
Pint $5.50
Stonepicker
Tart Cherry Ale
5.3% ABV
13 IBU
Pint $5.50
Ball Peen
ESB
5.3% ABV
27 IBU
Pint $5.50
Ten-Pound Sledge
English IPA
5.5% ABV
50 IBU
Pint $5.50
Twenty-Pound Sledge
American IPA, Midwest style
7.1% ABV
69 IBU
Pint $5.50
 
Pry Bar (Nitro)
Nitro Porter
5.1% ABV
30 IBU
Pint $5.50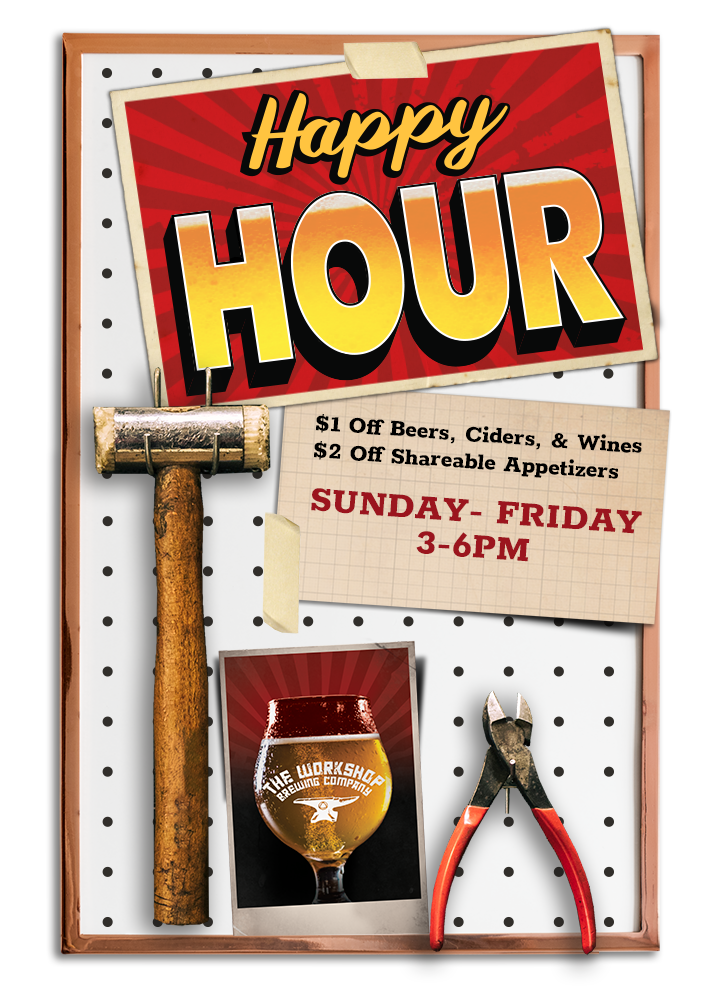 Uncapper
Dry Honey Ale
5.5% ABV 25 IBU
12oz Can $4.50
12oz Can 6 Pack $12.00
Plumb Bob
Coffee Oatmeal Stout
6.8% ABV 17 IBU
Pint $6.50
12oz Can 6 Pack $12.00
B.A. Plumb Bob
Rye Barrel Aged Coffee Oatmeal Stout
9.5% ABV
12oz Can $6.50
12oz Can 4 Pack $20
Slugcutter
English Brown                                            5.3% ABV  20IBU
Pint $5.50
Switchblade #19
American Lager
4.2% ABV 30 IBU
Pint $5.50
Blackberry Juniper Stoker
Kettle Sour
5.3% ABV  10IBU
Pint $6.50
Switchblade #6       
Irish Stout                                                  4.2% ABV  30IBU                                        Pint $5.50
Wines & CiderS
These carefully selected offerings from local winery and cider partners add variety to our menu. Ask a beertender for details about our house-made ciders!
Miterbox
Reisling
6oz $8.00

Riveter
Red Blend
6oz $8.00

Studfinder Rose
Sparkling Wine
6oz $8.00
Whistlepunk Cider
(N. American Common Dry Cider)
Pint $7.00

Stevedore Cider
(Sweet Cinnamon Cider)
Pint $7.00
Non-Alcoholic Beverages
We always have on tap a wide selection of local favorites from Northwoods Sodas! Hand-crafted with real sugar, these sodas have been made in the Grand Traverse area for over 20 years.
$2.50


Stop by for a visit today!
In the Warehouse District


HOURS OF OPERATION:
Mon, Tues: 3pm – 10pm
Weds, Thurs: 3pm – 11pm
Fri, Sat: 12pm – 12am
Sun: 12pm – 10pm