COVID-19 Update
The Workshop is defined by our philosophy, and always will be. We strive to do the right thing by our staff, by our community, and by the planet. As of Friday 5/22, we are permitted to reopen for service. But it's on us to decide if we should.
We've been working behind the scenes to re-envision The Workshop in a way that stays true to our values, that maintains our presence in the community, that is resilient to this pandemic and whatever comes next, and that keeps our staff and customers safe. We have some epic ideas that we can't wait to share with you! But we're not going to until we know we can do it in a way that takes care of staff and community.
So we won't be opening this weekend, but we are shooting to roll out the new, fighting-fit Workshop in early June (date TBA!). The new incarnation will feature:
– An all-new menu of delicious handmade eats that travel well and pair perfectly with our beer.
– Take-out friendly online ordering
– Outdoor service with distanced seating on our famous patio (we're even talking to the City about taking over more of Garland Street! Call your commissioners!)
– New packaged beverage options (beach friendly containers!)
– Health and safety measures for our staff and for you, our customers, that go above and beyond all government requirements.
We miss you and we can't wait to see your smiling faces (or at least your smiling eyes).
The Workshop Family
SPENT GRAIN PRETZELS
WBC's global phenomenon served with "Ball Peen" fondue and mustard grain aioli.
$8.00
ALOTTAFRICKIN NACHOS (GF)
Piled tortilla chips, slow-cooked black beans, and roasted poblano queso. Served with choices of: smoked pork ($18), seasoned chicken ($16), or grilled peppers and onions ($14)
$14-20
JUMBO WINGS
Seasoned, baked, then tossed in your choice of buffalo, bbq, or butter and parmesan. Eight: $12 Sixteen: $20
$12/20
House Smoked Whitefish DIP
baked and served with crostini.
$10
CHIPS AND SALSA (GF, V)
House-made Salsa. Simple and shareable.
$5  
House Made Sausage
see the specials board for today's offering.
$6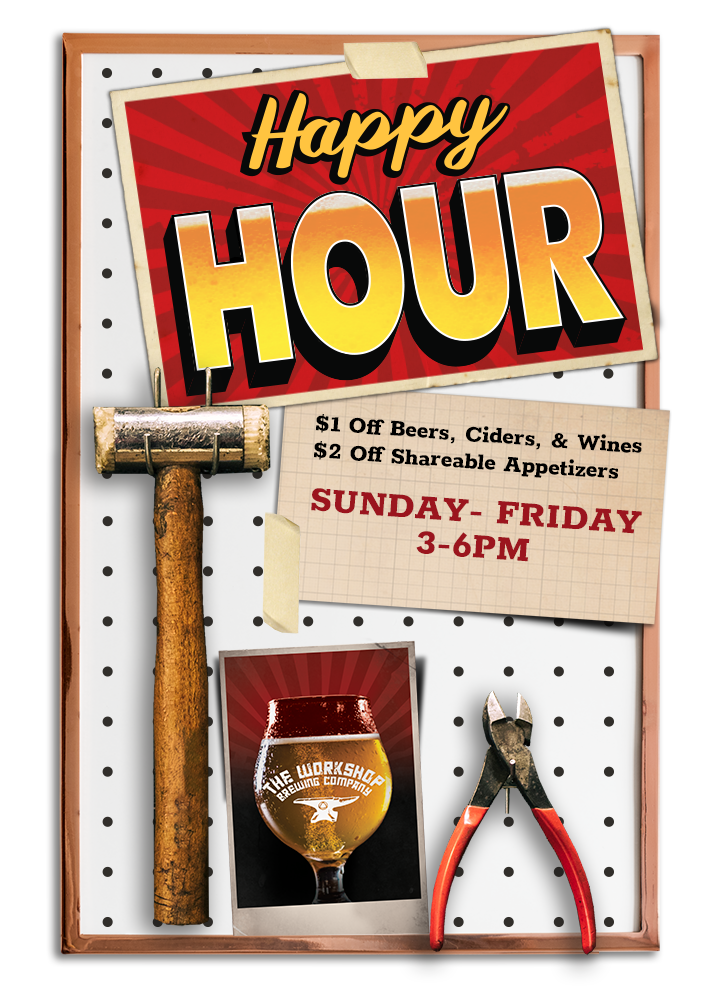 12 INCH HANDMADE PIZZA
Gluten-Free crusts available ($4)
DILL BREAKER
House-made dill pickles, ranch-whipped ricotta, roasted garlic,
flat leaf parsley, extra virgin olive oil, and house-blend cheese
$14

AMERICANA
Roasted tomato sauce, house-made Italian sausage, pepperoni,
mushrooms, onion, red peppers, and house-blend cheese.
$16

BBQ PORK
House-smoked pork, pickled red onions, jalapeños, house-smoked bacon, bbq sauce, and house-blend cheese.
$16

VEGGIE
Roasted tomato sauce, artichokes, mushrooms, red onions,
roasted garlic, red peppers, and house-blend cheese.
$15
HANDHELDS
Handhelds include Great Lakes potato chips and our delicious housemade pickles.
CAPITALIST PIG
House-smoked pulled pork shoulder, house-bbq sauce, and
vinegar slaw on a Pleasanton Bakery sweet potato brioche.
$12

SMASH BURGER
Grass-fed Michigan ground beef smashed with melted American
cheese, thousand island dressing, shredded lettuce, red onion,
and house-made pickles on a Pleasanton Bakery sesame brioche.
$14

BEAN WRAP (VN)
Black beans, roasted peppers, tomatoes, spinach, red onions,
and butternut squash wrapped in a 12" southwestern tortilla.
$10  
QUESADILLA
Southwest flour tortilla with melted cheese, choice of filling, creamy sriracha sauce, tortilla chips, and side of salsa.
Pork $14, Chicken $12, Black Bean and Peppers $12
GARDEN SALAD (GF, V)
Field greens, tomatoes, cucumbers, red onions, and bell peppers
tossed in an herb vinaigrette.
$10/$6
CAESAR
Crisp romaine, house-smoked bacon, red onions, shaved parmesan, toasted pretzel croutons, and house-made Caesar dressing.

$8/$5
Kids ToolS
*Include chips OR veggies
GRILLED CHEESE*
$5

HOT DOG*
$5

PEANUT BUTTER AND JELLY*
$5

CHEESEBURGER*
$8

12" CHEESE PIZZA
$10


In the Warehouse District


HOURS OF OPERATION:
In an effort to keep our staff and customers healthy, we are currently CLOSED.
Stay tuned for exciting news in June!